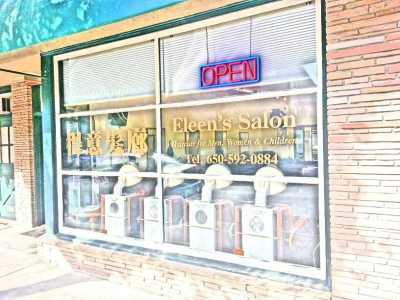 Barber
HairCuts
 Men & Women Style Cuts
Wash Cut Blowdry
 Shampoo & Set
Color
 Perms
Welcome
Call Us
650-592-0884
Eleen has been cutting hair for over 20 years.
 Eleen has owned multiple salons in the US & China and has also taught hair design.
She is an expert with Men's and Women's styled haircuts.  She has an extensive line of color for highlights and color.  She even is an expert in hair straightening.  Eleen works Tuesday, Thursday, Saturday & Sunday.
To help with increased demand for services and walkin traffic, we have more hair stylists and hours for you.  Please welcome
PATTY on Wednesday and now Monday.
Mandy will start helping Eleen on Saturday & Sunday.


Please make an appointment.  Walk-ins Welcome.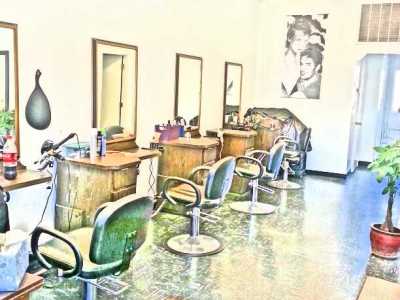 Style Updo
 Highlights
Color Treatments
 Oil Treatments
Hair Straightening
Bridal Hairdo
Bridesmaid Hairdo
Where Are We?
1357 Laurel Street
San Carlos, CA 94112
Call us:  650-592-0884

Check out Eleen's Salon Reviews
or submit your own!
Better yet, go to Yelp or Google+ ,etc. to submit your own review!
---
The absolute best !!
May 28, 2013 by Randy Silver
I have been going to the same shop for 25 years and the 2 previous stylists were good. Eleen is GREAT ! My hair is so well cut that I no longer need to use any styling gel; it just falls into place. The price is reasonable and she has always been on time. For anyone, particularly men, give Eleen a try, I think you will be so pleased that
she may become your regular hair stylist. San Carlos
Response: Thanks Randy for your support!
---
Eleen has been taking care of my haircuts for 20 years
Mar 20, 2013 by Wallace T
Eleen has been take care of my haircuts for almost 20 years, since I was in high school. She is very friendly, and we talk about all kinds of things when she cuts my hair. I have tried different places, and they always disappoint. Eleen is the only one that can give me a fade and the look that I want. She is upfront and tells me if certain haircuts are right for me or not. I go to Eleen before any special occasion, formal event, or any interview. She is quick and remembers how I like my cuts. After every haircut, I feel nice and neat. Go to Eleen if you want to feel like a new person after a fresh cut. I feel younger every time.
---
I love getting my haircut by Eleen!
I love getting my haircut by Eleen! She gave me the best haircut I have ever had and I won't go anywhere else. Eleen's is a great place to go, she is always happy and a very funny lady. She has great attention to detail and makes the best determinations for you based on your hair growth. I have brought many friends to Eleen and they all leave happy. This lady can work with any type of hair. I highly recommend you try her out!Ask for Eleen the new owner, she is great!
---